Pancakemachines
We can change the way how to make your restaurant quality Pancake.

Easy-Pancakes.nl and Pancake-revolution.com are both our unique pancake fastfoodconcepts.
We ship worldwide.
Baking pancakes as a professional was never this easy and safe.
Start your own Pancake delivery service now.
---
Our pancake concepts are developed for the fastfood industry like kiosk, restaurant, lunchroom and icecream parlours.
We have sold over 200 machines to our succesfull clients worldwide.
With this machine you can bake English / German / Dutch style pancakes, but also French Crepes.
---
We have 3 model pancake machines for you available;
​From left to right;
Easy-pancakemachine - Pancake revolution machine - Pancake revolution PRO machine.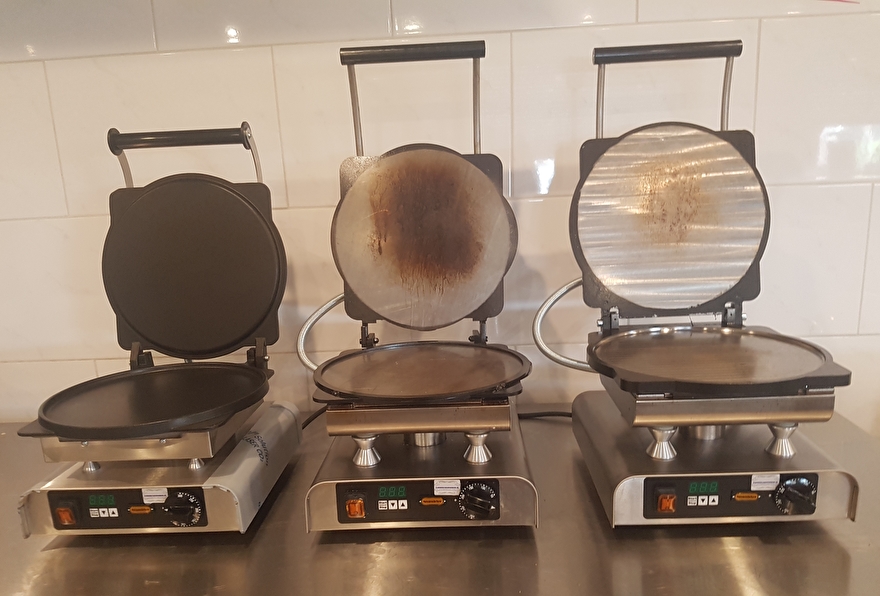 See the differences of the machines at the bottom of this page.
---
The advantages of our pancake machines;

– To bake the perfect restaurant quality pancake only takes 1 minute.
– The pancake is 30 cm in diameter. That is how we want our pancake to be.
Bacon, apple, onions, you can bake this along in the machine.
- Every pancake has the same consistancy, colour and taste.
– No more heavy pans to lift.
– No more flipping for these pancakes, our machine bakes at two sides simultaniously.
– In contrast to the traditional baking of pancakes in a professional kitchen with gas equipment, we dont have fine dust, no open fire. This is much better for your health and your staff.

Serve your pancake on a hot/warm plate. Put this plate on top of the machine while baking.
The steam will heat the plate up fast.
You will achieve the best result with our baking mix designed for this machine; Easy-pancakemix.
Available in 1 kg and 5 kg packaging. 10 and 20 kg packaging is possible for export worldwide.
We have all certificates and health documents needed.
The differences between our 3 machines are;
LEFT - The Easy-pancakemachine. This is our budget model.
This machine is fitted with aluminium non-stick coated baking plates.
If you clean the baking plates properly every day after use, this machine will serve you for years.
MIDDLE - The Pancake revolutionmachine. Our best sold model.
Indestructable model, fitted with the detachable steel baking plates.
This is the ultimate pancake production machine.
RIGHT - The PancakeRevolution PRO machine.
Same as the Pancake revolution machine, but this model is fitted with CNC milled (heavy)baking plates.
This is your machine if you make the pancakes in sight of your customers, like in a lunchroom.
---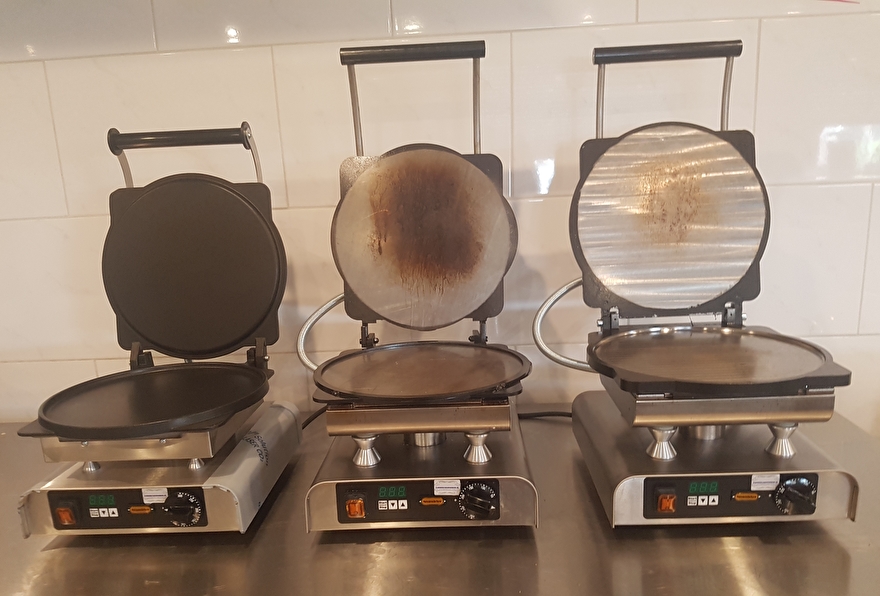 More info? see www.pancake-revolution.com