Welcome to our online DUTCH FUNFOOD webshop Pannenkoekenwinkel (Pancakeshop)
for our European customers.
---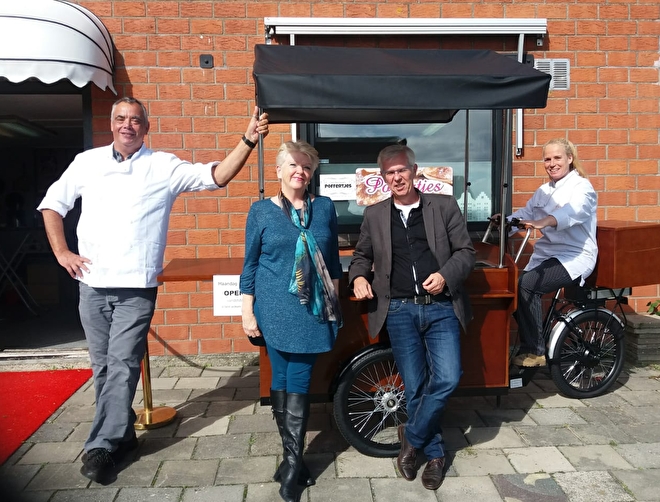 We are specialised in:
Mini Pancakes / Dutch Poffertjes Stroopwafels
Dutch / UK / German Pancakes
American Pancakes Crêpes and Galettes
Belgium waffles - Liege waffle, Brussels waffle, Bubbelwaffles, Waffles on a stick
Oliebollen / Dutch Donuts
Donuts, Spanish Churros and more.
---
Quality
Our baking mixes are from vandeMeester.com - best in quality and taste.
Our stroopwafels are from Orangestroopwafels.com
We love to help you expand and improve your business, with our Poffertjesacademy.com
or stroopwafelacademy.com
---
Questions ?
We get a lot of questions daily.
Please checq our FAQ`s your question is probably allready answered here..
---
Transport in Europe;
we ship orders to the UK/Europe daily.
up to 29 kg we can send of in a box for 39,00
50 kg ? make 2 orders in 2 boxes.
from 30 kg and up to 1000 kg by pallet for only € 195,00 contact us for advise.

---
Wholesale ? Please contact us for a quote at info@vandemeester.com
Outside Europe? - We have a minimum order, Please contact us for a quote at info@vandemeester.com
---
FAST CONTACT: Whatsapp 0031621842744 (almost) daily from 09 to 21 o`clock.
Email: info@pannenkoekenwinkel.nl
You are welcome to visit our company by appointment, or our academy for poffertjes waffles stroopwafels and pancakes
---
EXPORT
We sell our products worldwide to clients big and small.
We have clients in over 46 countries.
How can we help you to start or build your bussiness ?
Our products find their way around the world to:
Holland -Belgium – Germany – Danmark – Sweden – Norway -Lithuania -Romania -Estland -Latvia – Slovenia – Servia – Croatia -Bulgaria – Italy – Zwitserland – Austria -Luxemburg – France – Spain – Portugal – Greece – Malta – United Kingdom – Ireland – Israel – Egypt – Bahrein – Saudi Arabia -Lebanon – Ghana – Ivory coast – Marocco – Oman – Kazachstan – United states of America – Canada – Curaçao – South Africa – Mexico – Brasilia – Paraguay – Australia - India - Thailand – Malaysia – Vietnam
---
Offers
X-waffle machine eco
€ 635,00
€ 395,00