HOME
Welcome to our online DUTCH FUNFOOD webshop
Pannenkoekenwinkel (Pancakeshop) for our European customers.
---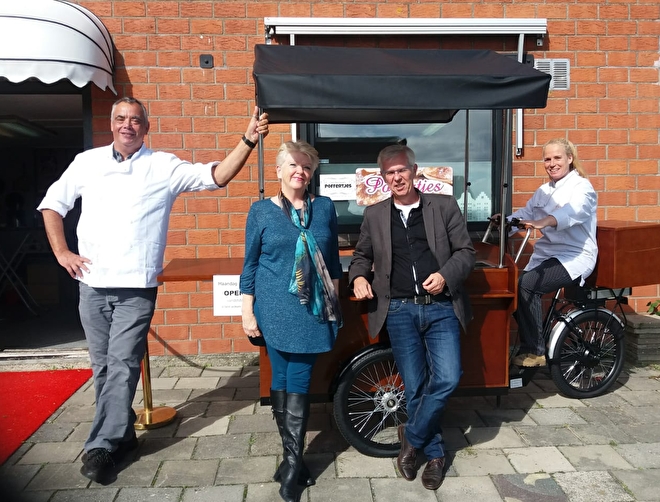 We are specialised in:
Mini Pancakes / Dutch Poffertjes Stroopwafels
Dutch / UK / German Pancakes
American Pancakes Crêpes and Galettes
Belgium waffles - Liege waffle, Brussels waffle, Bubbelwaffles, Waffles on a stick
Oliebollen / Dutch Donuts
Donuts, Spanish Churros and more.
NEW NEW NEW - Pizza waffles
---
Sept 26 - Corona virus update
The measures taken for the catering industry are also affecting us, as a supplier.
We have taken all our measures internally, but we are back to business as usual.
Trainings at our academy are available again, max 2 students at a time.

Eventually, the restrictive measures will lapse, and hopefully you, the catering entrepreneur or the food truck entrepreneur can get back to business as usual.
Are you preparing for this? This allows us to meet the expected peak and delivery on time.

Stay healthy and safe.
---
Quality
Our baking mixes are from vandeMeester.com - best in quality and taste.
We love to help you expand and improve your business, with workshops and trainings
at our academy for stroopwafels and Poffertjes (minipancakes)
---
Questions ?
We get a lot of questions daily.
Please checq our FAQ`s your question is probably allready answered here? or send us a email.
---
Transport in Europe;
we ship in Europe daily.
up to 29 kg we can send of in a box for 39,00
50 kg ? make 2 orders in 2 boxes.
from 30 kg and up to 1000 kg by pallet for only € 195,00 or contact us for advise.
---
Wholesale ? Please contact us for a quote at info@vandemeester.com
Outside Europe? - We have a minimum order, Please contact us for a quote at info@vandemeester.com
VAT and taxes ?
Are you a company ordering from another country than the Netherlands ?
Your VAT number will be validated at the checkout
and rates will apply from there.
---
FAST CONTACT: Whatsapp 0031621842744 (almost) daily from 09 to 21 o`clock.
Email: info@pannenkoekenwinkel.nl
You are welcome to visit our company by appointment, or our academy for poffertjes waffles stroopwafels and pancakes
---
EXPORT
We sell our products worldwide to clients big and small.
We have clients in 60 countries.
How can we help you to start or build your bussiness ?
Our products find their way around the world to:
Holland – Belgium – Germany – Danmark – Sweden – Norway – Lithuania -Romania – Estland -Latvia – Poland – Slovenia – Servia – Croatia -Bulgaria – Italy – Zwitserland – Austria -Luxemburg – France – Spain – Portugal – Greece – Malta – United Kingdom – Ireland – Israel – Egypt – Bahrein – Saudi Arabia -Lebanon – Ghana – Ivory coast – Marocco – Oman – Kazachstan – Ukraine - United states of America – Canada – Greenland – Curaçao – South Africa – Mexico – Brasilia – Paraguay – Australia – India – Thailand – Malaysia – Vietnam
---
Offers
Stroop spatula stainless steel
€ 21,15
€ 17,88